Hi everyone,
8ty8beauty Spree #45 is now OPEN! Thank you everyone for your OVERWHELMING support. All my sprees have been doing well and response is great! If this is your first time ordering from me, dont worry, i'm reliable and a responsible organiser. I've ordered more than 5400 bottles of nail polish for my past 44 sprees and it's still counting~
For those who've joined me before, welcome back! hehe... *pardon me for repeating the same verse if you've read this over and over again but there's always someone who's reading it for the first time.
For spree #45 I will be ordering from http://www.8ty8beauty.com/
*Pls go to the website and choose the colors and availability. (Don't ask me if stocks are available or not. what you see is what i see)
IMPORTANT NOTICE: Please choose your OPI colors from www.opi.com as you will not see it on 8ty8beauty
I will be away between 05-12dec so i have limited access to internet. Will try to respond to you whenever possible. please be patient.
++++++++++++++++++++++++++++++++++++++++++++++++++++++++++++++++
Try out OPI latest collection:
OPI Burlesque 2010 Collection - ($11 each) *HOT!!!*
First row left till right:
OPI HL B06 Simmer & Shimmer - Blue Glitter
OPI HL B07 Show It & Glow It! - Fuchsia Glitter
OPI HL B08 Sparkle-icious - Multicolor Glitter
OPI HL B12 Let Me Entertain You - Fuchsia Shimmer
OPI HL B13 Ali's Big Break - Red Shimmer
OPI HL B14 Tease-y Does It - Burgundy Shimmer
Second row left till right:
OPI HL B03 Bring On the Bling - Golden Glitter
OPI HL B04 Glow Up Already! - Green Glitter
OPI HL B05 Extra-va-vaganza! - Orange Glitter
OPI HL B09 Rising Star - Golden Shimmer
OPI HL B10 Take the Stage - Orange Shimmer
OPI HL B11 The Show Must Go On! - Pink Shimmer
OPI Swiss Collection
visit scrangie website for the swatches.
http://www.scrangie.com/2010/07/opi-swiss-collection-fall-2010-swatches.html
OPI Halloween 2009 - Tattoo Ta-boo! Mini set @ $16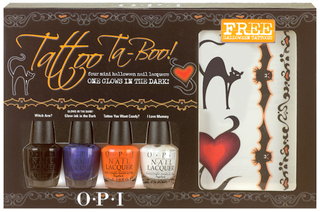 set comes with:
Witch Arm? (3.75ml)
Glow-ink in the Dark (3.75ml)
Tattoo You Want Candy? (3.75ml)
I Love Mummy (3.75ml)
FREE Halloween tattoos
Color Club latest collection - Untamed luxury collection

http://www.8ty8beauty.com/nail_polishes/color-club-a.htm
Orly latest collection
8ty8beauty will not be bringing in anymore new Orly colors. left those that are available on website

China Glaze - Tis the season *HOT!!*


http://www.8ty8beauty.com/nail_polishes/cg-c.htm

*pls note that the following set are SGD$19.20 due to the shipping fee for the free item.
CG-25094
CG-25091
CG-25093
CG-25089
China Glaze - Vintage Vixen
http://www.8ty8beauty.com/nail_polishes/cg-b.htm China Glaze - Poolside Collection
Pool Party (CG80945), Flip Flop Fantasy (CG80946), Sun Worshipper (CG80947), Yellow Polka Dot Bikini (CG80948), Kiwi Cool-Ada (CG80949), Towel Boy Toy (CG80950)
Fimo Nail Art sticks
1 stick: $1.50 (you can request for the type of design – eg: Fruits/Flowers/butterfly/misc)
5 sticks: $6.50 (assorted)
10 sticks: $10 (assorted)
*All are assorted unique designs. You may request the type of designs you like but no guarantee.
Pls email your orders and enquiries to estella85@yahoo.com
---
Pls read the terms & conditions carefully.
Spree will close when i've hit minimum 50 PAID orders!!
OPI Nail colors - SGD$11/bottle NETT (priced at USD$4.48 on website)
** OPI Suede & Matte collections are S$11.50 instead (Priced at USD$4.68**)
OPI Designer Series - SGD$16/bottle NETT(priced at USD$6.75on website)
OPI Nail treatments – SGD$11/bottle NETT
Top coat High-gloss protection
Natural base coat
Natural Nail strengthener
Ridge Filler
Arcylic base coat
OPI Start-to-Finish, Original/Formaldehyde Free Formula - $16/bottle NETT
OPI Nail Envy Series SGD$18/bottle NETT
Matte Nail Envy

Original Nail Envy

Dry & Brittle Nail Envy

Sensitive & Peeling Nail Envy

Soft & Thin Nail Envy

Nail envy original mini 0.125oz - $5



* OPI Chip skip mini 0.125oz - $5
* OPI Rapidry top coat mini 0.125oz - $5
* OPI Avojuice Mango hand & body creme 50ml - $10
* OPI Avojuice Coconut melon hand & body creme 50ml - $10
OPI Drip Dry 0.3oz - SGD$14.00/bottle NETT
OPI Avoplex Nail & Cuticle Replenishing Oil - SGD$16.50
OPI Avoplex Cuticle Oil on the go - SGD$13.00 (highly raved and award winning product)
OPI Avoplex High Intensity Hand & Nail Cream 4oz 120ml - SGD$25.00
PEDICURE by OPI:
Soak $22 (125ml)
Scrub $24 (125ml)
Mask $24 (125ml)
Smooth $22 (125ml) / $6 (30ml)
http://wowprettynails.blogspot.com/2010/08/pedicure-by-opi-ready-stocks.html
China Glaze Nail Polish - SGD$8.50/bottle NETT (priced at USD$2.88 on website)
China Glaze Nail Polish - SGD$9.00/bottle NETT (priced at USD$3.58 on website)
ORLY nail polish - SGD$10.50/bottle NETT
Essie nail polish - SGD$11.00/bottle NETT (Please go to www.essie.com to choose the colors)
Essie Matte About You SGD$14.00/bottle NETT **Transform to Matte finish**
Color Club nail polish – SGD$8.50/bottle NETT
Art Club Nail Art Color - SGD$7.00/bottle (Priced at USD$1.98 on website)
Creative Nail polish – SGD$8.50/bottle NETT
Seche Vite dry fast Top Coat 0.5oz- $11.00/bottle NETT ~~POPULAR~~
Seche Vite dry fast Top Coat 0.125oz- $3.50/bottle NETT ~~New travel size~~
Seche restore thinner 0.5oz $10.50/bottle NETT
Poshe Fast Drying Basecoat 0.5oz $9.80/bottle NETT
Poshe Treatment Basecoat 0.5oz $16.50/bottle NETT
Poshe Anti-microbial Basecoat 0.5oz $15.00/bottle NETT
Poshe Super-Fast Drying Topcoat 0.5oz $11.00/bottle NETT
Blue Cross Cuticle Remove 6oz - $16.00/bottle NETT ~~POPULAR~~
**price includes shipping fee from US to Singapore EXCLUDE local postage fee**
If you would like to order other items from the website but not listed above, pls feel free to contact me to arrange.

Terms & Conditions

I will only take in orders of those who pay up first before the spree closes as shown on my IB statement. No payment no order.
1. Refunds will be done if items are out of stock or you can opt for credit for next spree
2. Nail polish will be bubbled wrapped and taped for extra security
3. feel free to email me directly at estella85@yahoo.com for any enquiries/questions
Internet Banking account:

POSB SAVINGS 157-03577-0
UOB Savings 128-192-133-4
Internet banking or ATM transfers only. (no inter-bank transfer) Must be from the same bank.
Transfer via: ATM /IB(nick)
Amount:
Date:

Method of collection:

Normal/Registered/Meetup
Strictly postage (normal/registered) from my house to yours for 4 items and below
*Meet up minimum 5 bottles at Ang mo kio/Orchard/bukit batok (wkend for BB)
Normal postage rate (bubble wrapped + Styrofoam) for nail polish:
a. 1 bottle: $1.50
b. 2-3 bottles: $2.50
c. 4-7 bottles: $3.50
d. 8 bottles onwards: $4.00 (8th bottle) + $0.50 per extra bottle.
For registered, please top up extra $2.24 **Highly Recommended**
(I will not be responsible if items are damage after i've post out due to poor handling by the postman. I will ensure that all items are in good condition before sending out. I will also not be responsible if the mail went missing for normal postage )
Please post in this format *not responsible for any wrong order due to wrong format
Name of product:
Code:
Quantity:
Total Price:
Mode of Collection: Post/Meetup
contact number:
Mailing Address:
Pls email your orders and enquiries to estella85@yahoo.com Thank you for your support!